MTN increases the price of 1.5GB data bundle to N1200. See how you can still get 1.5GB for N1000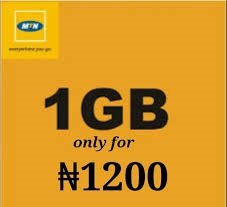 MTN Nigeria is really smart with the way they prepare
their customers' mind toward a price increase. You may have noticed that over
the week, MTN has been fiddling with the value of the 1000 Naira monthly data bundle. From 1.5 GB to 1GB plus
500MB, then to 1GB plus 500MB usable from 1am to 7am. Now, it is clear to
Nigerian smartphone
users what all those tweaking was all about.
MTN has officially increased the price of the
1.5GB monthly data bundle from 1000 Naira to 1200 Naira. Unlike the previous
version of the bundle, the 1.5GB is usable 24 hours a day, seven days a week.
The good news however is that you can still
get the 1.5GB monthly data bundle for 1000 Naira, at least for now. Ask me how.
Simple! If you have a GTB account, simply dial *737# on the phone with which
you opened that GTB account, choose option 3 to buy data, enter 1 for self or 2
to buy for another phone number, enter 1 for 1.5GB at 1000 Naira.
The 1.5GB is usable 24-7. Enjoy.