How to see what people around the world are searching for on Google. You will be amazed.
What
if you have the power to sit behind your computer and watch in real time what
people across the world are searching for? In addition to having express
information on trending topics from across the world, you will be amazed at
what people of the world are interested in.
Google has over the years, refused the
temptation to turn the google.com landing page into a home page. Doing that
would make google.com more of a dynamic website with lots of pages and
eventually, quadruples its pageviews.
You may also like: How the Google Pixel Buds compare to the Apple AirPods
However,
recent events seem to show that Google could be slowly gravitating towards that
idea as the site now has some new features added to it despite how
inconspicuous they appear.
When you
type www.google.com, one of the links that have been added to it (at the bottom
of the page ) is the link to the 'About Us' page. This link, in addition to
having information on Google's value and what it means and takes to work at
Google, gives real-time information on search queries on Google.
You may like: Google introduces the Pixel 2 and the Pixel 2 XL
To see
what people are searching for on Google, click on 'About Us' link and scroll
down to ' What the World is searching for now.' There, you will
find lots of queries from different parts of the world, in different languages,
as they are being entered.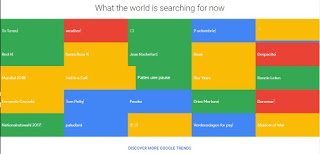 Just give it a try and you will be amazed.