Blackberry introduces the Blackberry Motion; comes with 4000mAh battery with IP67 rating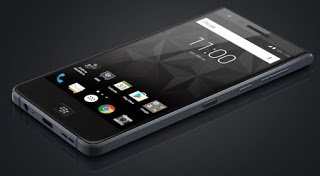 Despite the general opinion that Blackberry
is done with smartphone manufacturing, the Canadian company keeps coming up
with new products. The company, at this year's GITEX Technology week in Dubail, confirmed the rumors that had been flying around that it was going to introduce an all-touchscreen smartphone by unveiling its latest smartphone; the Blackberry Motion.
The phone
which passes as a mid-range smartphone features the following:
Display:
5.5-inch Full HD
RAM: 4 GB
Processor:Snapdragon
SIM: Dual
Battery
life: 4000mAh, compatible with Qualcomm's Quick charge 3.0
Water and
dust resistance: IP67 rating (same as iPhone X)
The device
will be available to selected markets first, with other markets to follow in
few months. The Blackberry Motion starts at Dh1,699 in the UAE and at 1,699
Riyal in Saudi Arabia. The equivalent in US Dollars is $460.
Coming from
previous experiences with other Blackberry devices, I would say give it three
months before making a purchase. This is because Blackberry devices often
experience drastic drop in prices with time. If you doubt me, campare the price
of the Blackberry passport now to what it used to be and you will thank me
later. Just my 2cents though.
Let me
know what you think of this move by Blackberry. Do you think Blackbeery should
continue to make phones? For me, my answer is, if they must, they should reduce
the prices of their smartphones and target emerging markets in Africa where
brands like Tecno and Infinix have thrived.