Huawei unveils the Mate 10 and the Mate 10 pro; sport dual rear cameras with 4000mAh batteries.
Chinese technology giant, Huawei,
yesterday unveiled the Mate 10 and Mate 10 Pro, two smartphones that sit at the
highest echelon of its smartphone line. The designs of the smartphones show
Huawei's resolve not to be left out in the recently adopted bezel-less design
that many industry leaders like Apple and Samsung have all adopted.
Both
smartphones look alike, with the major differentiating factor being their
sizes. While that Mate 10 comes with a 5.9-inch
2560 x 1440 LCD at 16:9 aspect ratio, the Mate 10 Pro features a
6-inch 2160 x 1080 OLED at an aspect ratio of 18:9. The two phones have
thin bezels at the top and bottom with the finger print scanner of Mate 10 Pro understandably at the
back while that of Mate 10 remains in front.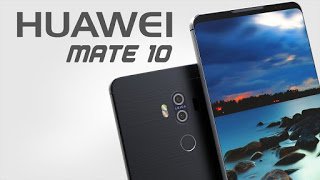 Worthy of mention, is the Kirin 970 CPU used to power these devices. The
Chip was developed in-house at Huawei's HiSilicon
semiconductor arm.
Huawei claims it includes what it referred to as Neural Processing Unit (NPU), which has been designed to
handle tasks related to artificial intelligence (AI) and deep learning.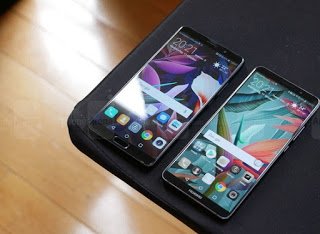 Will the Kirin 970 Chip be a match for Apple's A11
Bionic chip used in iPhone
8 and iPhone X? How far this can go in tackling Apple's unmatched processor
speed is something we all have to wait and see, but overall, its a step in the
right direction.
Model

Mate 10

Mate 10 Pro

Ram

4GB

4GB, 6GB

Storage

64GB

64GB, 128GB

Display

5.9-inch 2560 x 1440 LCD

6-inch 2160 x 1080 OLED

Body

Glossy Glass

Glossy Glass

Processor

Kirin 970 CPU

Kirin 970 CPU

Secondary Camera

12 Megapixel

12 Megapixel

Primary Camera

dual 20MP cameras
with f/1.6 lenses

dual 20MP cameras
with f/1.6 lenses

Battery

4,000mAh

4,000mAh

Water resistance

No

IP67 rated water
resistance

Finger print
scanner

Yes

Yes

Price

€699 ($824)

€799 ($942)
Both devices will run Android 8.0 Oreo fresh off the box. A variant of Mate 10
Pro, the Porche design model, designed exclusively for those with verocious
appetite for high-end mobile device, comes with 6GB of RAM and 256GB of
storage, and will set you back $1,645.
The
release date for these products are yet to be announced but be sure to read it
here when it finally does.