Amazon introduces a waterproof kindle with 4G connectivity.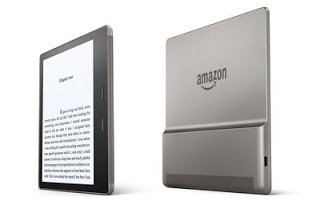 Amazon has introduced
an update to one of its gadgets – the Amazon Kindle. The waterproof
Kindle e-reader, the latest to be released in a string of consumer devices from
Amazon, was on Wednesday introduced to excited fans.
The device which is
an upgrade version of the Kindle Oasis, sports major improvement in areas of
wireless connectivity, battery life and more.
It comes with 4G
wireless connectivity, an improvement to the 3G mode available in Kindle Oasis,
a brighter 7-inch display, an improved battery life that can last for six
weeks, and is waterproof – a feature that Kindle users have long been yawning
for.
Amazon said in a
statement that with the new Kindle, people can now read at the beach or in the bath tub without
worrying about damages that could be caused by water.
With the 4G internet
connectivity mode, users can download e-books at faster speed than previously
available. The device also has Bluetooth functionality and integrates with
Amazon's audible service which enables users stream audio books via wireless
headsets or speakers.
One can say this is a
product of listening attentively to customers' feedback and working towards
improving user experience and overall sales of the product. Kudos to Amazon.
How much does it
cost?
The 4G, 32 GB storage
version will cost you $350 while the one without 4G capability, with 8 GB of
storage will leave your wallet $250 less.
Good stuff from
Amazon. Would you be getting the waterproof Kindle ?