TSTV accused of lying over list of channels and right to show live EPL matches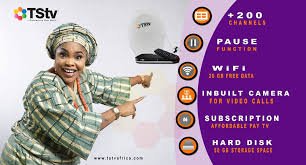 A popular South African independent TV critic, Thinus
Ferreira has come hard on TSTV African, accusing it of lying about TV channels
it has no right to. In the Article published on teeveetee.blospot.com, for TV with Thinus, he said Turner broadcasting system, owners of CNN, confirmed
to the publication that TSTV " doesn't have and isn't allowed to advertise and
market CNN international that TSTV claims it has a right to"
As if that was not
enough, he went further to say that beIN Media Group, owners of sports
channels, beIN Sports, also confirmed to TV with Thinus that they have no
contractual agreement with TSTV Africa to air their contents on their platform.
"Qatar's beIN Media
Group , also confirmed to TV with Thinus that TSTV has no
right to its 10 beIN sports channels."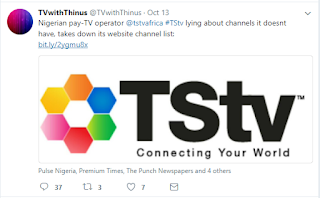 He said the
publication can reveal that in addition to TSTV lying about having the right to
CNN and 10 biEN sports channels, it also lied about having rights to TV
channels like FOX, National Geographic, Nat Geo Wild, Discovery Science,
Investigation Discovery , MTV Base, EuroSport, Fox Sports 1, Fox Sports 2 or
Nickelodeon. Hmmm, what is left then ?
I find it difficult
to believe that TSTV would go on to list channels, more than eighty percent of
which it has no right to in this age that a simple tweet to any of these media
companies will gaurantee a confirmation. But then, how come all of a sudden,
TSTV has taken down its list of channels on its official website with the claim
that they are being updated? How long does it take to update a list?
The article further
queried TSTV's claim to show live EPL matches when MultiChoice, owners of DSTV
Africa, has the exclusive right to it. It said " On its website TSTV also lies and
says it will show the EPL matches and other soccer leagues live – pay-TV sport
content rights that MultiChoice and SuperSport secured exclusively for DSTV in
the sub-Saharan African region.
I know MultiChoice
has exclusive right to EPL matches and I was amazed when I read that TSTV will
show live EPL matches. I still haven't forgotten what happened to HiTV. I was
only hoping this would be different, and I still hope it is.
The list of
accusations goes on and on and TSTV, in their characteristic manner, made
matters worse in their Twitter reply to Thinus by simply claiming that
channel and dealers lists are presently unavailable because they are being
updated. What a joke!
This article may just
be a piece from an unhappy South African who feels that an indigenous company
has come to unseat a South African company in Nigerian. However, with the delay
in making decoders and other installation kits available to expectant fans and
the disappearance of the channel list on the website of TSTV, I suspect their
could be problems somewhere. We can only hope these issues are resolved on time
before Nigerian begin to see TSTV as another HiTV.
If you would like to
read the full article, click
here
.