How to resolve issues faced when setting up Mikrotik usermanager
Mikrotik usermanager is one of the coolest
things you can do with the Mikrotik RouterOS. It allows you to authenticate and
and manage users on your network. You can allocate bandwidth, access rate as
well as time to users. This makes it easy for you to manage your limited
bandwidth.
But like
every good thing that everyone wants to have, setting up the usermanger has
posed serious issues to beginners and some intermediate network administrators.
From not being able to find the user manager application in the file section of
the router after it has been downloaded and the router rebooted, to not being
able to contact the usermanager server when the URL is entered into the
browser.
If you
found yourself in this situation, you are not the only one. Since there is no
official documentation known to me that talks about these issues, I also found
myself confronted with these issues. In this article, I am going to highlight
two factors responsible for these issues, and you will be amazed at how simple
their resolutions are.
The first
issue: not being able to find the usermanager application in the file section
of your router after it has been downloaded and the router rebooted.
Cause of
problem: This issue will arise if your router OS and the usermanager application are of different versions.
Solution:
Make sure the usermanager you downloaded is of same version with the
router OS on your Mikrotik device. To be on the safe side, update your router
OS to the latest one and download the latest version of usermanager.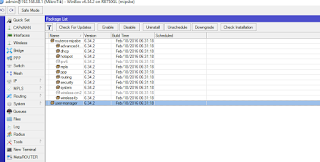 Second issue: not being able to connect to
the usermanger server after entering the URL.
Cause:
this issue will arise if you do not change your service port on your router
when setting it up for usermanager. Because the router itself is using port 80 for
webfig access to the router, you MUST change the service port to something else
so that when you enter the router's IP:port number, you will be redirected to
the usermanager server.
To change
the port number, click on IP, click on services, click on www and change the
port to some else, say 808. See image below: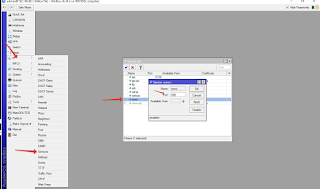 If your router's IP is 192.168.88.1 and you
have the usermanager software installed on the same router with all required
configs properly done, to access the usermanager app, simply type
192.168.88.1:808 into your web browser, that is if your changed your port
number to 808, hit the enter key and you will have the usermanager app come up.
See this
video on my YouTube channel
for a complete guide on how to set up Mikrotik
Usermanager. Please, don't forget to subscribe to the channel for more videos.