How to manage bandwidth with Mikrotik Hotspot User profile
If you desire to share your bandwidth among different groups of hotspot users in a way that the activities of one group does not affect the browsing speed of the others, then Mikrotik hotspot user profile is the feature you need, and this post will show you everything you need to do to get it right.
Mikrotik hotspot user profile is a feature that can be used when setting up the Mikrotik hotspot to categorize hotspot users into groups. These groups are then assigned bandwidth speed from the bandwidth available from the ISP.
Mikrotik hotspot allows the delivery of wireless internet coverage within a campus, hotel, town, etc., in such a way that authentication is handled by a hotspot server from a central location instead of the conventional method of having each access point handle user authentication separately.
Some of the benefits of hotspot include single sign-on (irrespective of where a user is connecting from), roaming, easy password, user and bandwidth management, etc.
Network Topology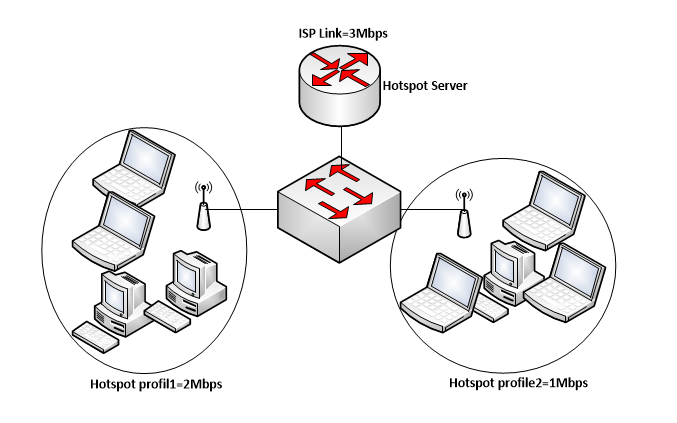 Lab requirements
This lab was carried out using a Mikrotik RB 750 with license level 4.
Implementation
The first step is the setting up of hotspot server. To do this, click on IP>hotspot>hotspot setup and following the instructions that follow. With a few clicks, here and there, you are done setting up your hotspot server in no time. Some of the details that must be entered while setting up a hotspot server include the following: choose interface for which hotspot is configured, enter interface IP, define hotspot pool, enter interface IP as primary dns server IP.
You may like: How to configure Mikrotik hotspot
After the configuration of hotspot sever, configure Mikrotik hotspot user profile. The hotspot user profile allows you to specify the allowed download/upload speed for all users attached to a particular profile. In the hotspot menu, click on the user profile tab and enter the name and rate as highlighted in the image below.
You can repeat the steps to create more user profiles. After the hotspot user profile has been created, click on the user tab to create hotspot users and assign them to different profiles. Users will inherit the speed allocated to their assigned hotspot user profile. See the image below for how to create users.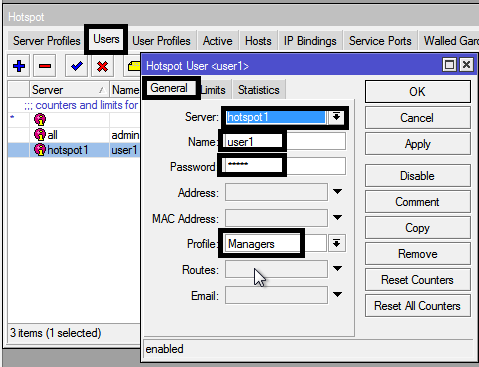 With this setup, the user named user1 and any other users assigned to the profile named manager will all have 2mbps upload and download speed shared amongst themselves. If create another profile and assign them 1mbps, the user profile will ensure that 2mbps will be reserved at all times to users assigned to the manager profile. This is a good way to make sure that a few systems do not take up the entire bandwidth available to all.
You may also like: How to solve all your Mikrotik hotspot problems.

If you enjoyed this tutorial, please subscribe to this blog to receive my posts via email. Also subscibe to my YouTube channel, like my Facebook page and follow me on Twitter.