Use Mikrotik walled garden to bypass printers and servers in hotspot
Mikrotik walled garden allows users to create an exception rule to bypass certain devices on the LAN from hotspot authentication. While the Mikrotik hotspot is one of the much appreciated features in the Mikrotik routerOS, without the use of the Mikrotik walled garden, it will be impossible to connect devices like servers and printers to a network placed behind a hotspot server.
While most users have come across the Mikrotik walled garden feature, some are confused about its usage. In this posts, we will look at how easy it is to actually except some devices from a hotspot using the Mikrotik walled garden.
Network Topology
I will assume that you have already set up your hotspot and everything is working except that you want to bypass the printers and servers on your network from hotspot authentication. If you do not know how to configure a Mikrotik hotspot, click here
Objective
The objective is to bypass the server and printer from hotspot authentication. To do this, the IP address assignment on both devices will be done statically. These static addresses will then be entered as source address in the Mikrotik walled garden for the hotspot whose authentication should be bypassed. This will be done for the number of devices we want to except from hotspot authentication. See command below:
Mikrotik Walled Garden configuration
[admin@Timigate] > ip hotspot walled-garden add server=hotspot1 src-address=192.168.1.22 action=allow
Using the GUI in Winbox, it can be done as shown below: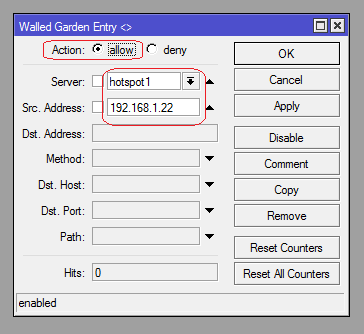 You may also like: How to solve all your Mikrotik Hotspot issues.
Verification
To verify that the configured Mikrotik walled garden is working as intended, simply open a web browser and visit any website from the server or print to the printer. This should work without the need for hotspot authentication.