More troubles for DSTV as Startimes announce daily, weekly and monthly subscription plans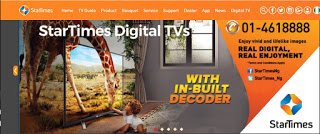 This is definitely not a good time for Multichoice; owners of DSTV, as Startimes has announced new subscription plans for its subscribers. Just as
Nigerians are waiting patiently for the November 1st commencement of decoder
sales by
TSTV Africa
, Startimes seized the opportunity to announce that its
subscribers can now subscribe to daily, weekly and monthly plans.
With the power situation in
most parts of Nigeria, you would agree with me that a satellite TV provider
that gives subscribers the options for daily and weekly subscription is what
Nigerians have been waiting for.
With Startimes, subscribers can now pay for the number of days
they want and not miss any of their favorite shows, and the most interesting part, according to Startimes, is that users can watch all Startimes channels for only
60 Naira per day as well as watch over 40 channels at 300 Naira per week.
I think the satellite TV
industry in Nigeria is now beginning to witness a healthy competition, thanks
to the propositions put forward by TSTV Africa who have promised to roll out
services everywhere in Nigeria starting from the 1st of November this year.