Jumia Black Friday Day 3: get Apple iPhone for less than 40k. iPhone 5c, 5s, 6 and iPhone 8 selling at cheap prices.
If you are a lover of quality phones like me, then this post is for you. Apple products have been confirmed to last the
test of time. That is why the Apple iPhone 5S still sells for as much as 120k. From
the battery life, to camera quality and what have you, iPhone is the deal. For
those that have over the years drooled over iPhone but had to purchase one
of those substandard products that have flooded the Nigerian smartphone market
because of the high cost of owning an iPhone, now you can own one at a price
lower than what is spent on some of the not-so-good Android devices in the
market.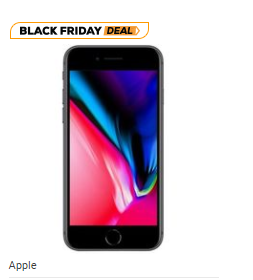 If you are a Jumia customer,
you may have received an email or text, telling you of one of the amazing offers
on Jumia Black Friday. At first, I didn't believe it until I followed the link
and discovered for myself. Below are the various iPhones up for grabs at cheap
prices:
* iPhone 5C 8GB at N38,110
* iPhone 5C 16GB at N48,100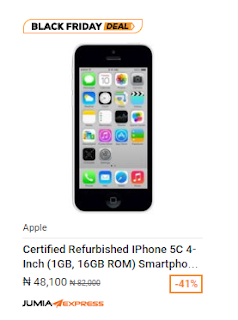 * iPhone 5S 16GB at N54,100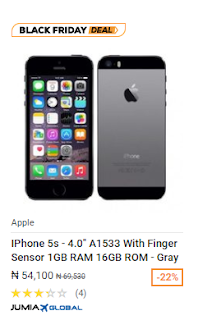 * iPhone 6 64GB at
N109,900
The newly released Apple iPhone 8 is not excepted from the Black Friday offer as Jumia ia now offering the high-end super smartphone at almost half its original price. The 64GB version of the smartphone can be purchased for just 291,999 Naira. That is 103,001 less than its original price of 395,000 Naira.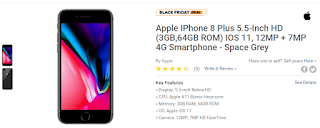 Click
here
to visit the Jumia Black Friday page.