iPhone X now available in Nigeria. Guess what the price is in Naira and who sells at the cheapest prices?
The Apple iPhone X is now available for
purchase in Nigeria courtesy of Konga, Jumia and Slot. The smartphone which many
have been waiting for and has been blamed for the abysmal sales record of the
iPhone 8 and iPhone 8 Plus can now be easily purchased in Nigeria amidst the global difficulties being experienced in getting the device.
Slot
announced that the iPhone X can now be purchased from its website and any of
its branches nationwide. The 64GB model goes for 550,000 Naira while the 256GB
model goes for 650,000 Naira.
On Konga,
the smartphone can be purchased at a slightly higher price. While the 64GB model
goes for 560,000 Naira, the 256GB model sells for 670,000 Naira.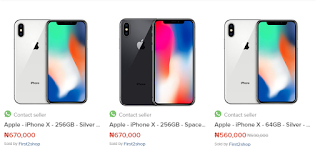 The
smartphone sells at cheaper prices on Jumia. The 64GB model goes for
504,699 Naira while the 256GB model sells for 599,999 Naira only.
So guys,
now that you know where to get the iPhone X and who sells at a cheaper price,
would you be getting any of the iPhone X models? If yes, which one?