How to create a Virtual AP interface on a Mikrotik access point
What
I want to demonstrate is less technical than the title sounds,believe me. In
this demonstration, I want to share with us a simple way to get out of a
technical situation without spending additional money. Assuming we have an
established Point-to-Point link that connects site B to A. Site A is the AP
while B is the station. The link is doing great but just recently, a new site,
lets call it C, in the direction of B needs to be connected to site A. C has a
clear line of site to A and can be connected to A but the only problem is that
A's license level is 3, hence its wireless mode is bridge and such setup can
only connect a single client at a time because its Point-to-Point. How do you
achieve this requirement without upgrading your license so that router A's
wireless mode can be configures as AP to connect more than one client?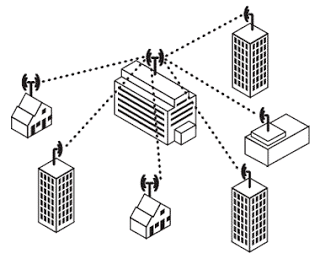 When
an access point (AP) is configured for a point-to-point, the wireless mode is
bridge and only a client can connect at a time. However, you can connect as
many as 127 clients who have clear line of sight to that AP by using the virtual
AP setting (though it is recommended to not go beyond 30 clients). This simply
means that you are creating more virtual access points, each with its own SSID
and security profile. Apart from the SSID and security profile, the virtual AP
inherits every other parameter on the master interface and it only works on
master interfaces configured as AP-bridge, Bridge, or wds-slave. It does not
support NV2.
To
configure virtual AP on a Mikrotik access point, follow the steps below:
Alternatively,
follow the steps in the images to create using the GUI.
>>
Click on the wireless tab from the main menu
>>
Click on add and choose virtual AP
>>
Enter a name for the virtual AP
>>
Choose a wireless interface as the master interface
>>
Enter a name for the SSID and choose your security profile. The security
profile must have been
created before this step.
Click
here
to see how to create, export and import a security profile in Mikrotik.
To connect a client to the virtual AP, make sure the
frequency on the master interface of the virtual AP router is listed on the
frequency scanlist of the client radio, and also make sure you have the
security profile already created on the client radio, scan and connect to the
SSID on the virtual AP. That's all.