Apple support now on YouTube to solve all iPhone, iPad, WatchOS, and Mac problems.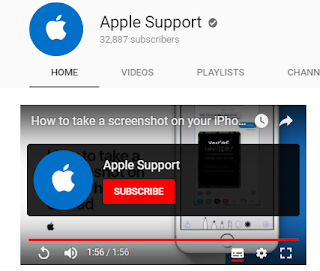 Given the challenges that have bedeviled iPhone X users,
some of which are direct consequences of the removal of the home button, Apple have decided to
"swallow their pride" and seek a more interactive way of providing
supports
to users on how to get around some issues experienced on the new device as well
as the recently released Apple iOS 11.
Some of the issues that
have been reported range from
unresponsive iPhone X display
when in the cold,
cracking noise from the speakers, difficulties in initiating an
update
due to
the absence of the home button, and more. If you are presently experiencing any
of the listed problems or any other one at that, now it's is easier for you to
get help. Simply head over to Apple YouTube channel to get help. While you are
there, you might as well subscribe to the channel to get latest videos on how
to get around problems encountered on Apple products.
Click
here
to visit the official Apple support YouTube
channel.