Samsung Galaxy Tab Active 2 unveiled; device is water resistant with LTE support. See specifications and price.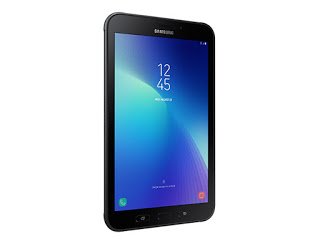 Samsung
has unveiled its Galaxy Tab Active 2, built for business users. The sleek and
elegant 8-inch tablet is IP68 rated water and dust resistant and is expected to
be rugged, thanks to its MIL-STD-810 certification.
The device features an 8-inch display at a resolution of 1,280 x
800 pixels, 3GB RAM, 16 GB internal memory that is expandable to 256GB using
MicroSD, and is powered by the Exynos 7870 chipset. It sports an 8MP rear
camera, a 5MP secondary camera and a 4450mAh battery.
The Samsung Galaxy Tab Active 2
will run Android 7.0 Nougat fresh off the box and supports LTE connectivity. It
also comes equipped with the Samsung proprietary S pen, a fingerprint scanner
located on the home button, and a facial recognition system, in case you find
it difficult getting around the fingerprint scanner.
Samsung said the Tab Active 2 is
developed to be used across multiple industries for different purposes. It sited
its ruggedness as selling point to those in the construction industry while it
hopes that the law enforcement agencies may benefit from the many vehicle
mounting options that are available.
The device will go on sale later
this month in yet-to-be-announced select markets at a
yet-to-be-announced price, though rumor has it that it will be between $500 and
$600. Even though the Samsung Galaxy Tab Active 2 was developed with the
business world in mind, it can also be purchased for personal use.