How to use snooper in Mikrotik to choose the best frequency for wireless links
Wireless
connectivity is the cheapest and among the easiest ways to connect sites together.
Because of this and the ability to use 5Ghz radios, microwave has becoming the
most popular medium for connecting locations together, either through
Point-to-Point
or
Point-to-Multipoint
. But like every good thing that has
everyone jumping on it, using the unlicensed 5Ghz frequency spectrum comes with its own issues, among which interference is topmost. In this demonstration, we will see how to use the snooper
feature in Mikrotik wireless to carefully select the best frequency to transmit
on.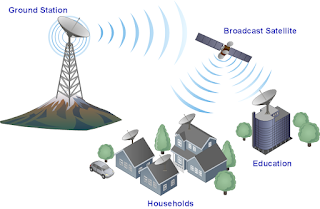 Though there are other ways you can effectively
optimize your wireless links, some of which you can find
here
, transmitting on
a frequency that already has many users will reduce the throughput on your
link. Since the 5Ghz spectrum has the unlicensed frequencies that can be used
by almost anyone, it is possible to have so many users already on your selected
frequency. When this happens, your link will perform poorly, leaving you with
not-good-enough throughput that could be less that the required bandwidth. When
this happens, you have yourself an extremely slow link.
Note, that
throughput is the capacity of the link (how much load the link can withstand),
while bandwidth is the subscribed capacity of the
link ( the capacity of data the customer expects the link to withstand). Throughput should
always exceed bandwidth otherwise, the connection is poor.
To choose the best frequency for your link, you
will have to carry out a snoop test on the AP to determine which frequency is
good enough. The frequency with less load is chosen at the end of the test and
is then entered into the frequency field and the radio starts transmitting out
on it.
On the wireless interface of your AP, enter the
frequencies to snoop on into the frequency scan list if they are from the
superchannel frequencies, otherwise just click on snooper.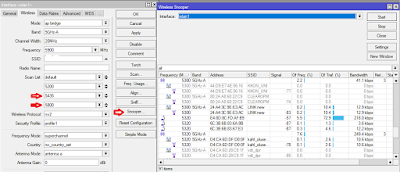 Frequencies from the superchannel were
listed in the frequency scanlist before clicking on the snooper.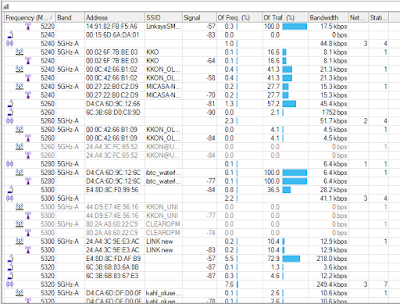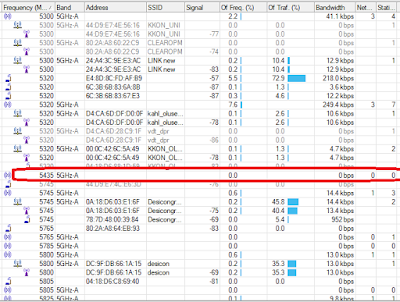 The result above shows utilization on the
default frequencies as well as the frequencies from the superchannel. The
frequency highlighted in red has no activities on it and as such is clear and
is considered the best to use. Note that you may not find a frequency with zero
activities like the one in this demonstration. In such situation, look for the
one with less activities and use it.