India topples US to become world's second largest smartphone market; Samsung and Xiaomi leading in shipments
India has one more time, just like China,
shown that there is power in population. The Asian country with its
monumental population of over 1.3 billion people has overtaken the United
States of America to become the world's largest smartphone market, with two
brands accounting for half of the overall shipments.
With
India's population slightly below that of China, its economy has thrived
irrespective of the political quagmire that the country has witnessed of late.
With companies like Xiaomi, Samsung, Vivo, and the rest paying close attention to the nation's smartphone market, the country's goal to become an internationally
recognized technology hub witnessed an unprecedented boost as various
multi-billion dollar investments were launched, resulting in the milestone that
is being celebrated today across India.
According
to Canalys, India's smartphone market is officially the world's second largest
smartphone market, surpassing that of the US and only behind that of China.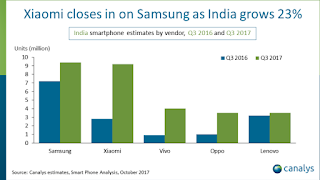 From the graph published by Canalys, it shows that two major
brand- Samsung and Xiaomi- are responsible for half of the total smartphone
shipments to India in 2017.
Sourced from
Androidauthority