Xiaomi intruduces the Mi Note 3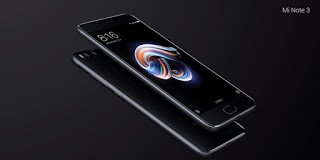 One
of my favorite smartphone manufacturers, Xiaomi, in addition to the Mi Mix 2
just announced the launch of the Mi Note 3. The elegantly crafted piece
of art work comes sporting a 5.5-inch display and is powered by the Snapdragon 660 chipset. It has a
6GB RAM and supports up to 128GB of internal storage. Though it lacks the
bezel-less design of the MI Mix 2, the bezels are thin enough to make the
device smaller that the iPhone 7 plus even though they both sport the same 5.5-inch
display.
It
has a 12 MP wide-angle lens together with a 12 MP telephoto lens offering
2x optical zoom. The cameras have a 4-axis optical image stabilization that
will allow for the capture of bokeh images. The secondary camera features a 16MP
sensor with Adaptable AI Beautify mode that allows you beautify images
without affecting the quality.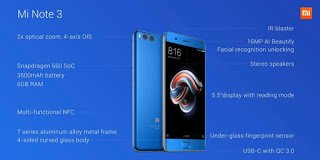 The
Mi Note 3 is powered by a 3,500 mAh battery, encased in an aluminium
frame and a glass back. It sports a fingerprint sensor infused in the home
button just below the display, a type-C port and a facial recognition
system for alternative means of accessing your device.
The
price for the 64GB version goes for $385 while the 128GB version goes for
$445. The release date for this device is yet to be set by Xiaomi. Let us know what you think about this device.