Lenovo takes computing further with the Yoga 920 that allows you communicate with your computer from a distance.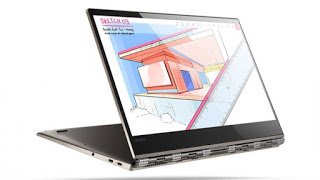 It's no longer
news that Lenovo launched the Yoga 920 two days ago at the IFA in Berlin, what is news however, is the various specifications that this device comes with. The
previous version of the Yoga, Lenovo Yoga 910 received positive reviews, howbeit, some tech nerds were quick to point out their disappointments in the design, especially the
location of the web cam, which was placed on an extra-large bezel
beneath the display, giving you those unattractive shots when video-chatting,
and the absence of thunderbolt 3 ports. Have these deficiencies been corrected
in this new version? Let's find out for ourselves
Design:
The all new Lenovo Yoga 920, a high-end convertible laptop with
180 degrees wide-angled opening ability, spots an all-round improvement in
design and specifications compared to the Yoga 910. It comes lighter and
thinner at 0.55-inch thick and weighs 3.02 pounds. The display is 13.9-inch 4k
IPS 180 degrees wide-angled touchscreen with optional active pen and a
fingerprint sensor. It also comes with two thunderbolt 3 ports for data transfer
and charging. This is seen as a major improvement from the USB Type-C that was
available on the Yoga 910. The camera has also been moved from the thick bottom
bezel to the thinner to bezel at the top of the display, making sure you have
quality shots, whether you are chatting or simply taking pictures. This to me
is good even though the initial design found on the Yoga 910 was done to
produce quality images when flipped upside-down. I guess people still prefers
the computer mode to tablet mode, no matter how hard Lenovo tried.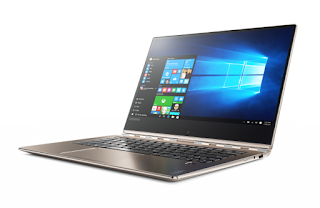 Features:
>> Intel 8th generation core processor
>> Intel Ultar-High Definition 3,860 x 2,160 display
>> Options of 6GB or 8GB RAM
>> Options of 256 GB or 512 GB or 1TB of SSD
Storage
>> Far Field Microphone that allows you to use
voice commands from four meters away and works even when the laptop's lid is
closed, as far as it is plugged to power.
>> 11 hour of usage on battery ( as claimed by
Lenovo)
>> Starting price is $649
From my assessment of the Yoga 920, I can say it is an
all round improvement on Yoga 910. Let us know what you think of this device.