Tech startup develops a gadget that can tell if your bag is fake.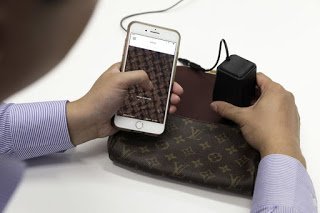 The
business of luxury brand counterfeiting is increasingly becoming lucrative and
big brands like Gucci, Prada, and Louis Vuitton are spending billions of
dollars yearly aimed at combating this menace. According to London-based
researcher Visiongain, "Apparel
makers will spend about $6.15 billion in 2017 on anti-counterfeiting
technologies"
This is coming even
as the upsurge in e-commerce has continued to make this battle harder to fight.
Well, all that fights seem to be taking an easier turn as a New York startup
has introduced a technology that can help luxury brand consumers separate the
chaffs from the weeds easily.
Entrupy's
Solution is a handheld microscopic camera that works with smartphones to easily
check the originality of a luxury accessory in a minute. According to the
company, the accuracy of their solution has increased to about 98% for 11 of
the world's top brands including Gucci, Louis Vuitton, and Chanel (I guess we
won't be needing Hushpuppi to confirm product originality
anymore).
How does it work?
The
company has a database of millions of photographs from about 30,000
different handbags and wallets and is constantly populating and updating this
database as brands upload new pictures. When an Entrupy's camera is pointed at
a product, the image is taken and through the internet on your smartphone,
matched against the original image held in the database to determine its
originality. Entrupy says its camera magnifies objects 260 times, so
features invisible to the human eye become telltale signs: misshapen stamp
marks, tiny gaps in leather grain, and paint overruns.
The device
can be leased for an initial fee of $299. Monthly plans start at $99 and over
160 businesses have so far signed up. My concern though is the lease thing. I
thought this was going to be a personal stuff that one can purchase and own for
dealing with criminally-minded e-commerce platforms who display original
pictures and sell replicas. I hope they start selling to individuals
soon.