Best way to install and use Cisco Configuration Professional (CCP)
If you are having difficulties with how to install and use the Cisco configuration professional (CCP), worry no more because today, I'm going to show you all you need to do to have your CCP working well. I must say that CCP is one of the few things Cisco didn't do well. Every tech blog you log unto, people have one or two problems concerning CCP to write about. Well, I have this solution based on personal experience. Without much talk, here we go.
Follow these commandments and your CCP will work for you. What you need: Windows 7, CCP version 2.7(download
here
), java 6.11.1 (32 bit, download
here
), internet explorer version 8, and adobe flash player latest version preferably( download
here
). If your operating system is 8 or later version, then install windows 7 on a virtual machine and the rest software on the windows7 virtual PC. Lunch internet explorer, click on tools, click on compatibility view and add the IP address 127.0.0.1 and click on close. After that, right click on the CCP icon on the desktop and click on run as administrator. That's all.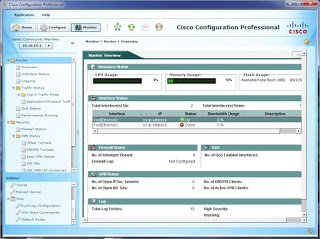 Note that for you to connect to your router via CCP, you must have configured username and password on the router, an IP address for at least one interface (the interface you are connected to), https, and http authentication. Here are the commands:
# ip http secure-server
#ip http au local
#username admin privilege 15 secret cisco
#interface vlan 1 (the interface depends on what you have on
your router and where your cable is connected).
#Ip add 192.168.1.1 255.255.255.0
#no shut.
Here is a video on how to install the Cisco Configuration Professional.
Command must be enter in global configuration mode.