How the Google Pixel Buds compare to Apple AirPods
A lot of tech enthusiasts like me were on Wednesday, the 4th of October, 2017 treated to what I called a world-class unveiling of technology
gadgets, code named Made By Google . While most of the Made by Google devices
unveiled reaffirmed Googles commitment to developing tools capable of
sustaining the high level of acceptability that the Android operating system
has enjoyed should Samsung and LG decide to move to different mobile operating
systems, the unveiling of the Google Pixel Buds to me, as little and
insignificant as it might appear to some, was the star of the show.
Before the
Pixel Buds, they were two Mobile headphones: the Apple AirPod and the rest. The
Airpod was introduced in 2016 at the unveiling of the Apple iPhone 7, but
unlike the Pixel Buds, it was one of the lowest points of the events as many
people complained about its looks. I would rather see it as a direct response
to the removal of the headphone jack rather than an innovative move. Lets see
how the both earbuds compare to each other.
Control: While using the AirPod,
you can only control your music from your phone because there are no control
features built into the headset. On the Pixel Buds, controlling your music is
easy even though there are no visible buttons on the device. You can control
your music by simply tapping on the right Pixel Bud to start or pause your
music, swipe forward or backward to increase or reduce music volume.
Pixel Buds won this one
Fit: I honestly believe
that no business executive will like to have a pair of the Apple AirPod hanging
out of his/her ears while on a business assignment.With the Pixel buds, the earbuds fit perfectly into the
ears with a strap that hands over the nape, making sure that they don't fall
off your ears. They both use a more open-air design that allows them to be
perfectly placed in without sitting in your ears. This provides the kind of
comfort that earpieces from most mobile phone manufacturers don't provide.
Overall, I give it to the Pixel buds on this one.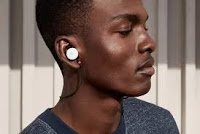 Battery
Life:
They but have similar battery power of about 5 hours of battery life when fully
charged. The Pixel buds comes with a carrying charging case capable of
charging the buds four times. What this means is that a fully charged Pixel
buds case, can charge your pixel buds four times. This is similar to that of
the Apple Airpods only that Airpod case comes smaller in size than the Pixel
buds. The Airpods won this one.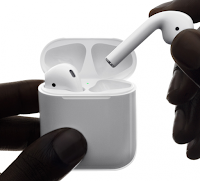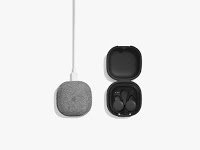 Peering
and compatibility: On this one, it is very clear. While AirPods can only
be peered with iPhone, iPad, and iPod running iOS 10 or later, Apple watches with
watchOS3 or later , and MacOS with Seirra or later, the Pixel Buds are not
limited to Google Pixels. They can be peered with other Android phones with
Google Assistant features. However, to get the translation in over 40 languages
of the world, the Pixel Buds must be peered with any of the Google Pixel
phones. So, advantage goes to the Pixel Buds, only when peered with any of the Google Pixel phones.
Translation: This, to me is the
greatest advantage that the Pixel Buds have over the AirPods. It works like
this: when you are communicating with a person, say from France, and for some
reasons you can only understand English while the other person understands only
French. Having set your preferred language, you can tap and hold on the pixel
buds, speak, and the French translation of what you have said in English will
come out the speakers of your Pixel phone. The person you are discussing with
will then speak back in French into the Pixel phone and you will hear him in
English. If this works as proposed by Google, sadly, a lot of interpreters are
going to loose their jobs. But in all, it will be a great innovation. Advantage, Pixel Buds.
Assistant: both earbuds give
you immediate access to an online assistant without the need to bring out your
phones. Advantage here will go to Google if its assistant can do all the things
it said it can do.
Wireless
or Wired: Here, it is worthy of note that while the term wireless is used with
Google Pixel Buds, it is not completely wireless since there is a wire
connecting both earbuds to each other. However, it is wireless since there is
no wire connecting it to the phone. On the Apple side of life, the AirPods are
completely wireless. Advantage, AirPods.
Conclusion: While both earbuds
are of high quality and choice will be influenced by the phone a user has, it
worthy of note that based on the analysis above, the Google Pixel Buds won. If
your smartphone choice is to be determined by the type of earbuds it supports, then get the Google Pixel 2, Pixel 2 XL or any of the high-end
Android-powered smartphones with Google Assistant.
If you found this useful, please drop a comment and like and follow me across my social media handles. Thanks for reading and stay safe.