Google launches the Pixel 2 and the Pixel 2 XL
Technology Giants,
Google today at the Google event launched it high-end ultra sleek smartphones
called the Google Pixel 2 and the Pixel 2 XL. The phones which are upgrade
versions of the Google Pixel and the Pixel 2 XL, both released last year.
The Google Pixel 2
sports a 5-inch fully OLED display while the Pixel 2 XL sports a 6-inch fully
OLED display with a bezel-less design. The fingerprint sensor is placed
perfectly at the back and according to Google, " the fingerprint sensor is
faster than any other smartphones". Both phones also sports the Always-On
feature found on the Samsung Galaxy S8+
You may also like Google introduces its first wireless headphone called the Pixel buds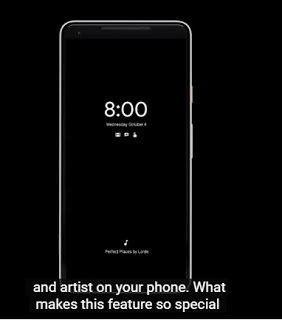 But phones are IP67 water and dust resistant and supports
5.0 Bluetooth.
The Pixel 2 comes with a 12MP rear camera with optical
image stabilization with a potrait mode ability even though it has just one
rear camera. Google also said its front-facing cameras on the Pixel 2 and Pixel
2 XL are capable of portrait modes, a first in the industry. Unlike Apple
iPhone, the Google Pixel gives you unlimited cloud storage for your HD pictures
The Pixel 2 come in three color: Kinder blue, black and
just white, while the Pixel 2 XL comes in black and white and both phones can
give you up to 7 hours of battery life in 15 minute charge.
The Pixel 2 starts at $649 for the 64GB while the Pixel 2
XL starts at $849. Both smartphones will be available in six countries
including Australia, India, Canada, Germany, UK and the US. See full spec
below:
Category

Google Pixel 2

Google Pixel 2 XL

Operating System

Android 8.1 with Google UI

Android 8.1 with Google UI

Processor

Qualcomm Snapdragon 835

Qualcomm Snapdragon 835

RAM

4GB

4GB

Display

5-inch 1920×1080
AMOLED
Gorilla Glass 5
2.5D glass, 441ppi
95% DCI-P3 color space

6-inch 2880×1440
pOLED
Gorilla Glass 5
3D glass, 538ppi
100% DCI-P3 color space

Rear Camera

12.2MP f/1.8
1.4μm pixels
OIS, EIS
PDAF, LDAF

12.2MP f/1.8
1.4μm pixels
OIS, EIS
PDAF, LDAF

Front camera

8MP, 1.4μm pixels
f/2.4, fixed focus

8MP, 1.4μm pixels
f/2.4, fixed focus

Video capture

4K @30fps, 1080p @120fps, 720p @240fps

4K @30fps, 1080p @120fps, 720p @240fps

Battery

2700 mAh
Non-removable

3520 mAh
Non-removable

Charging

USB-PD, 18W rapid Charging

USB-PD, 18W rapid Charging

Connectivity

USB Type-C, Bluetooth 5.0

USB Type-C, Bluetooth 5.0

Fingerprint sensor

Yes, on rear

Yes, on rear

Additional features

Active Edge sides, eSIM

Active Edge sides, eSIM

Storage

64 / 128GB

64 / 128GB

Water resistance

Yes, IP67

Yes, IP67

Colors

Kinda Blue, Just Black, Clearly White

Black & White, Just Black

Security updates

3 years

3 years

Platform updates

3 years

3 years

Dimensions

145.7 x 69.7 x 7.8 mm

157.9 x 76.7 x 7.9 mm

Weight

143 g

175 g