Startimes releases more details on its daily, weekly and monthly subscription plans. Customers to pay as low as N60 per day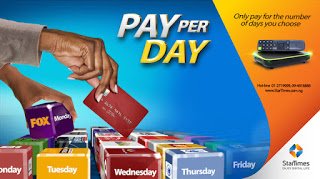 As a way of not letting TSTV Africa take the
shines for today, Startimes has chosen today of all days, November 1st, the day
set aside by
TSTV for the official launch
of its satellite TV services across
Nigeria, to announce further details on its daily, weekly, and monthly
subscription plans.
Startimes
had earlier announced that customers can now subscribe to daily, weekly and
monthly plans for as low as N60 per day. The news was well received by many who
also took the opportunity to thank TSTV Africa for pioneering such idea. In a
statement made available on its website, Startimes has now released more details on
the pay as you watch plan.
According
to the statement, Basic bouquet subscribers
will enjoy subscription rates for as low as N90 per day and N450 per week while
classic bouquet subscribers will pay N180 per day, N900 per week on DTT
(Antenna) Platform.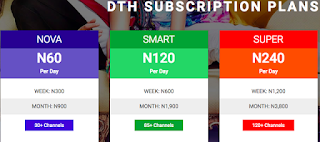 For customers on the DTH (Dish) Nova bouquet, they will pay N60 per day,
N300 per week and 900 per month while customers on the Smart bouquet will
pay N120 daily, N600 weekly and N1,900 monthly. Furthermore, Super Bouquet
subscribers will pay as low as N240 per day, N1,200 per week, and N3,800 per month.
Now, let the competition begin. It won't take long before we will have DSTV doing the same thing.