Dell donates $36 million to Hurricane Harvey victims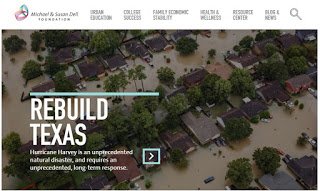 American billionaire and founder of Dell, Michael
dell has pledged 36 million US dollars to the Hurricane Harvey relief efforts
The pledge which was made through his foundation,
the Michael and Susan Dell Foundation, is so far the highest donation made
towards alleviating the sufferings of the victims of the Hurricane that has
left over 39 people dead and rendered millions of people homeless. The Houston
native and his wife Susan in company of the Texas state governor, Greg
Abbott yesterday announced the
launch of the rebuild Texas Fund. The couple
donated $17 million to the fund and said the goal is to raise over $100 million
aimed at providing relief materials to victims as well as rebuilding Texas.
In a statement, Michael
and Susan said, " this disaster is personal to everyone who has root in Texas.
Both of us were born and raised in Texas and the street Michael grew up on in
Texas is under water now."
The foundation in addition to the $17 million that has been committed to the project, pledged to
contribute $1 for every $2 donated for the first $36 million raised. This
matching campaign started yesterday and will run through midnight on Monday.
Walmart who contributed
$20 million in cash, Verizon $10 million and other corporate giants have
together raised over $110 million dollar so far and the figures are still
counting.
Source: cnn.com
Image credit: Michael and Susan Dell foundation, google.com