The Diamond BET: Receive 3 million naira for having a great idea.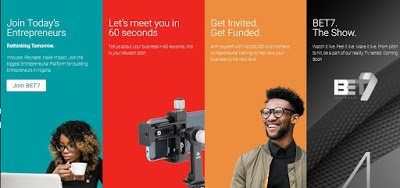 The Building Entrepreneurs Today
(BET) is the initiative of Diamond bank Nigeria designed to equip emerging
entrepreneurs of all ages with the educational skills and capacity needed to
succeed. The BET is a six-month intensive entrepreneurial training programme where
50 promising entrepreneurs with brilliant business ideas are selected from a
pool of thousands of applications received from different sectors of the
economy and trained. After the six-month intensive training, the top five
candidates are rewarded with 3 million naira each to help push their business
ideas to the global stage.
The
BET programme in conjuction with Enterprise Development Centre (EDC) has
trained thousands of entrepreneurs with great business ideas and
ultimately helped contribute to job creations in great measures and capacity
building for people of all ages. Now, with the 7th edition themed Innovation and
Social Impact, BET has thrown its doors open to all entrepreneurs in all
sectors of the economy with innovative ideas.
So
the question is do you have what it takes to be selected? Most Nigerians
are blessed with great ideas that require little startup capital to set them in
motion. There are so many tech startups everywhere too. If you find yourself
among these categories, then the BET programme is for you. The best thing about
the BET programme is that there is no age barrier and even if you do not emerge a top five, the training received as a member of the selected fifty
will be enough to set you in motion.
Uchechi Arinze, MD/CEO of Uchechi Arinze faction had these to say
after emerging one of the winners " It was 9 months away
from the next BET and I was looking forward to participating in that one,
finally there was an open call for applications into the program and I realized
there was also a business training attached to the N3 Million prize money, this
got me more interested and motivated in applying into the program because I was
a creative person who knew only about fashion and little or nothing about
business" .
Another
participant, Okiedesal Emmanuel of i-CARE Solutions had these to say "BET
program was an eye opener for me and I'm grateful that I was part of the
participants. I'm grateful to Diamond Bank for changing my world entirely and
if I could paint it a picture, I'll write a big THANK YOU to BET. I really wish
every aspiring entrepreneur can be part of this kind of opportunity Diamond
Bank is giving".
How do I apply ?
The application process is divided into three stages:
>> Let's meet your business
>>Your business in 60 seconds
>>Await invitation
At the first stage, you fill out a form with your name, surname, business name and so on. The second stage involves you making a 60-second video where you are to talk about your business idea and how it can benefit the economy. The importance of the audio and visual qualities of this video can never be over emphasized. It is highly recommended to you get the best quality video you can as this will determine your eligibility. Third and final stage is where you complete your registration, submit and wait for the invitation. To apply for the Diamond Bank BET programme, click
here
.