Android 8.0 is here. Coming to Google and Nexus devices first.
Android just dropped the news that everyone has been waiting for- the arrival of Android 8.0! The Android Oreo is the latest version of the Android OS to run on Android enabled mobile devices. According to Android, the Oreo is smarter, faster, more powerful and sweeter than ever. In a tweet on Monday to announce the introduction of the latest version of the world's most popular mobile operating system, Android users around the world had their appetite wet with a short video that highlighted the various features of the new mobile OS in a manner that has never before been done.
The key features of the Android 8.0 include speed, security, multitasking, longer battery life, more emojis and lots more. See below for details on the various features of the Android Oreo:
Speed: The Android 8.0 is said to be 2x faster than Android 7.0. The boot time as recorded using Google pixel initiates your favourite tasks more quickly and is 2x faster when it is booting up compared to previous versions.
Background limit: Over the years, users have been complaining about background activities on the Android OS. This has been an issue escpecially when using the Sony Xperia phones. With the Android 8.0, background activities in apps you use less are minimized to free up system resources, making your device super fast and cooler.
Autofill: Just like the Google Chrome, autofill will work with you to remember your login details, enabling you get into your apps at the speed of light!
Picture-in-Picture: This feature has got to be the coolest of them all. It allows you run two apps at once. Imagine the power that thrusts in your hands- the power to do much more!
Google play protect: Google has just taken security to a whole new level with this feature. Can you imagine scanning over 50 billion applications per day? Even the once you are yet to install? Because apps can get compromised to harm your device upon installation, Google play protect ensures that apps on Playstore are scanned regularly to be sure they are safe for downloads. Cool, isn't it?
More Emojis: Beautifully redesigned and over 60 newly created emojis are coming to Android 8.0, making it even easier and less stressful to share how you feel. I am sure the ladies will like this one.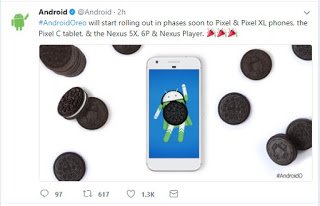 Roll out date: The Android Oreo will be rolled out in phases soon, first to Google Pixel and Pixel XL phones, the Pixel C tablet, and the Nexus 5X, 6P and Nexus Player. No specific date has been set for the roll-out.