Ether-trunk bundling on the Huawei NE40-x30 router
Link aggregation or ether-channel or ether-trunk bundling as it is on the Huawei series routers, if you manage an enterprise or a service provider network, you would have known that one of the challenges constantly staring at you is the endless demand for bandwidth. As a solution architect, a part of your job is to come up with designs that will address users' requirements and part of those requirements, is meeting the bandwidth needs of your clients.
The ether-trunk bundling feature on Huawei routers, much like its ether-channel counterpart on Cisco switches, gives network administrators the power to aggregate multiple links into one logical, high-capacity link with options for load-balancing methods across the various physical links in the ether-trunk. The resultant ether-trunk link can either a layer2 or a layer3 logical link. Ether-trunk uses the Link Aggregation Protocol (LACP); an industry-standard protocol from the IEEE that supports up to 16 ports in the trunk with 8 being active while the rest are placed on standby mode, allowing any failed port to be quickly replaced by any of the standby ports.
You may like: Sophos connect VPN setup on Sophos XG firewall
The configuration of Ether-trunk bundling on Huawei router is quite simple, although there are a few things to note prior to adding physical ports to an ether-trunk. The ports in the ether-trunk must have the same speed, duplex and MTU size among a few other things. Kindly check out the netgear's official documentation on LACP here for more.
How to configure Ether-trunk bundling on huawei router
First create an ether-trunk, then add ports to the eth-trunk. See steps in the image below.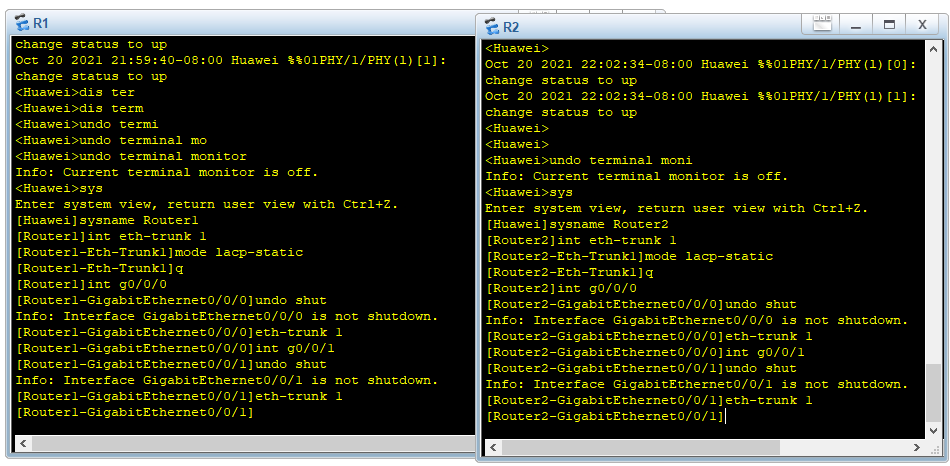 The next step is to assign an IP address to the eth-trunk interface. Simply enter the interface eth-trunk 1 command, if eth-trunk 1 is your eth-trunk interface, then assign an IP address to the interface.
Load-balancing across ports in the ether-trunk
There are three main load-balancing method within an ether-trunk. They are per packet, per source-destination IP and per source-destination mac-address. Depending on your preference, you can choose the option that best addresses your organization's need. To configure this feature, simply enter the ether-trunk interface and type load-balance and choose the option that suites your needs. See commands in image below.

Finally, test connectivity between devices by pinging across the WAN link. You can also verify the eth-trunk status by using the command "display eth-trunk 1" as used and captured in the image below.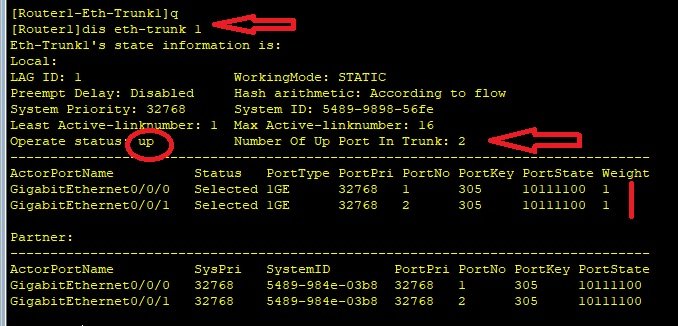 If you enjoyed this tutorial, please subscribe to this blog to receive my posts via email. Also subscibe to my YouTube channel, like my Facebook page and follow me on Twitter