Unboxing and initial configuration of Sophos Cyberoam CR 35iNG
The Sophos Cyberoam 35iNG is a small office security device that is available as a unified threat manager and next generation firewall with the ability to deliver advance network security with stateful inspections firewall, VPN, and Intrusion Prevention System, Human layer 8 ID-based controls and layer 7 application visibility and control. In this post, we will look at the unboxing and initial configuration of the Sophos Cyberoam CR 35iNG.
What to know about Sophos Cyberoam CR 35iNG
The Sophos Cyberoam 35iNG comes with 6 GbE ports, configurable internal/DMZ/WAN ports, stateful inspection firewall, Intrusion prevention system, gateway anti-virus and anti-spyware system, anti-spam, application filtering, web application firewall, VPN capability, bandwidth management, multiple gateways with 60 seconds automatic failover, and more.
Sophos Cyberoam CR 35iNG Unboxing
The Sophos Cyberoam CR 35iNG comes in a small handy box with the following components included.
Sophos Cyberoam CR 35iNG box
+12V Power adapter
3 meter-length cat5e ethernet cable (x2)
Console cable
The Sophos Cyberoam quick start guide.
Sophos Cyberoam CR 35iNG initial configuration
Sophos Cyberoam devices come pre-configured with a default LAN IP of 172.16.16.16 with a subnetmask of 255.255.255.0. To access the device you will have to configure your computer with any IP from the network other than the one that has been assigned to the Cyberoam device you are trying to access. Example, assign 172.16.16.1 to your computer with a /24 subnetmask.
To access the box, open a web browser and type in 172.16.16.16 into the url field and hit the enter key. Enter the default username and password of "admin admin". After logging in, you will need to carry out all or most of the following configurations to have internet access
Enter a valid WAN IP and default gateway
Configure a LAN IP with subnetmask, if you desire to change yours from the default 172.16.16.16/24
Configure NAT
Configure a dhcp server for LAN users
Assign the router a dns address
Sophos Cyberoam IP address assignment
To assign an IP, simply click on Network >> Interface >> double-click on port B (WAN) interface and assign IP and gateway. Port A is LAN, B is WAN, and C is for DMZ. Port B, by default is dhcp-enabled. To change it to static, click on the interface >> static >> assign IP address and gateway. See image below: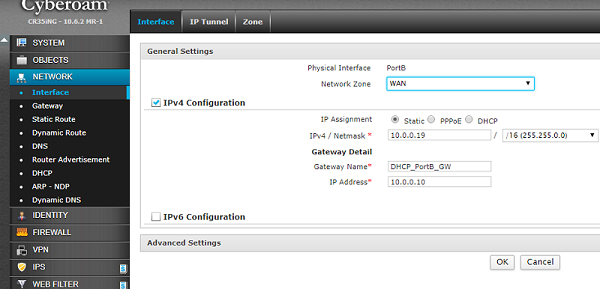 Repeat steps for LAN and DMZ.
Sophos Cyberoam DHCP configuration
To configure a dhcp server for connected LAN users, click on network >> dhcp >> add and follow the steps shown in the image below: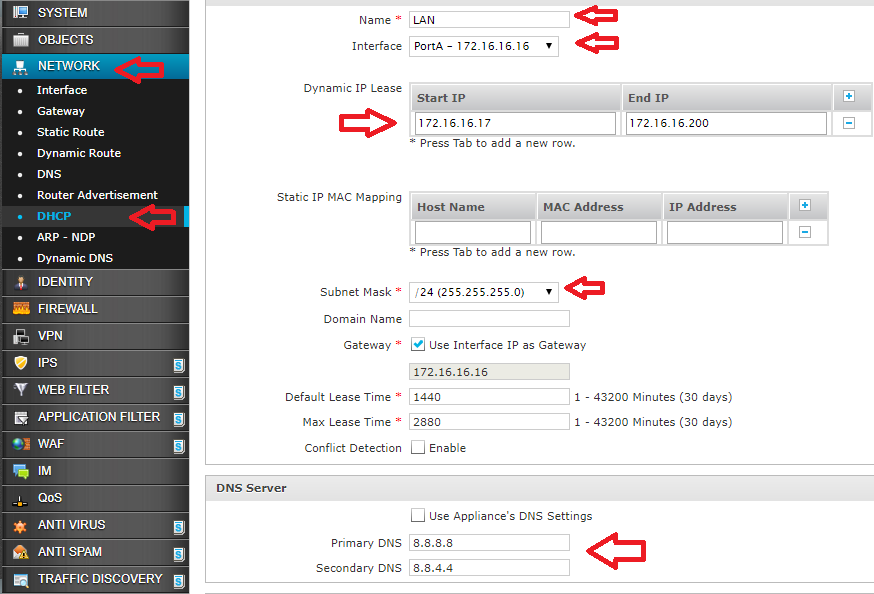 Sophos Cyberoam NAT configuration
To configure Network Address Translation (NAT), click on firewall >> rule >> add >> select source and destination interfaces, network or host should be set to any IP, services should be set to any and schedule should be all time. Click on accept and check the box beside apply NAT and choose MASQ for masquerade. See image below.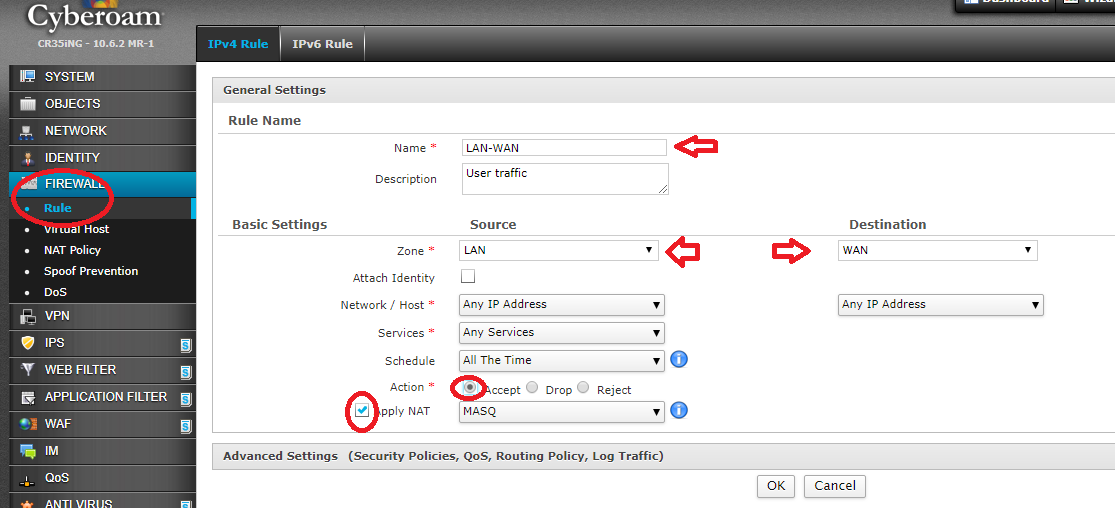 Static DNS Configuration
To assign static dns addresses to the router, click on network >> dns >> click on static dns >> type in dns addresses.