Google celebrates Chinua Achebe's 87th birthday, today. Displays his image on Google homepage.
If you reside in Nigeria, opening the Google
homepage today would display an image of Late Professor Chinua Achebe, a
Nigerian novelist, professor, poet, and renowned elder statesman from Ogidi in
the south-eastern part of Nigeria. Born Albert Chinualumogu Achebe on the 16th
of November, 1930, he was famous for his first novel, Things fall apart, which is
regarded as the most widely read book in modern African literature.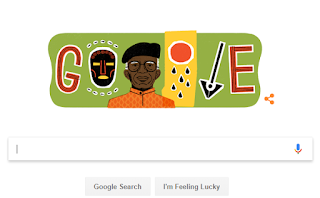 Achebe,
who won the Man Booker international prize in 2007, died on the 21st of March,
2013 in Boston, Massachusetts, USA.
On Google
homepage, click on the image of Achebe to read more about the man that is
regarded as the father of modern African literature.