Mikrotik User Meeting (MUM) is holding in Lagos, Nigeria today! Watch live here.
The
Mikrotik User Meeting (MUM)
is the single largest gathering of Mikrotik and
RouterOS users under one roof. It affords network engineers who deploy Mikrotik
gears the opportunity to meet and hear directly from Mikrotik OEMs and well as
exhibit network accessories built to work with Mikrotik gears.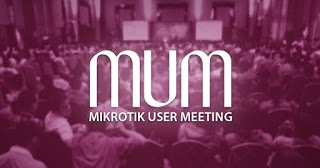 This year's MUM has been scheduled to hold
across three cities in African – Lagos (Nigeria), Nairobi (Kenya),
and and Yaounde (Cameroon). The Lagos MUM is holding today and you can
watch it here.